Chinchillas.com Newsletter
Volume 4, Number 1 - September 17, 2006
---
August/September Opinion Poll Concludes Next Weekend!

The Chinchillas.com August/September 2006 Opinion Poll will come to its conclusion on Saturday the 23rd of September. We are honored that Abbot Owen Purcell, OSB
of the Benedictine Monastery in Atchison, KS has agreed to make a special trip to personally draw the winner. We will announce the winner on Wednesday evening, the 27th of September. Please check the site at that time to see the results. We would like the thank everyone who participated for their input and excellent comments. If you would like to be entered to win the Limited Edition Barbara Scott Fisher Miniature Chinchilla Sculpture and Jewelry Set, there is still time to complete the poll. Click here.
Summer Special ends Wednesday, the 20th of September
We would also like to thank everyone who took advantage of our annual Summer Special, which concludes this coming Wednesday, the 20th of September. Mr. Ritterspach offered some wonderful animals during the course of the summer, and we wish their new owners around the globe much success with them.
Royal Persian Angoras born in Europe and Asia!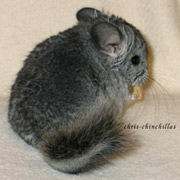 This year marks the birth of some of the first Royal Persian Angoras born outside the Tucker and Biggers Ranch in over a decade. We would like to thank Christine in Belgium for submitting this photo of one of her beautiful Royal Persian Angora kits born this year!
---
Pink Surfer Wheels back in stock!
The extremely popular Pink Surfer Wheels are back in stock, but we expect that they will sell out again quickly. If you would like to place an order, don't delay... ORDER NOW!