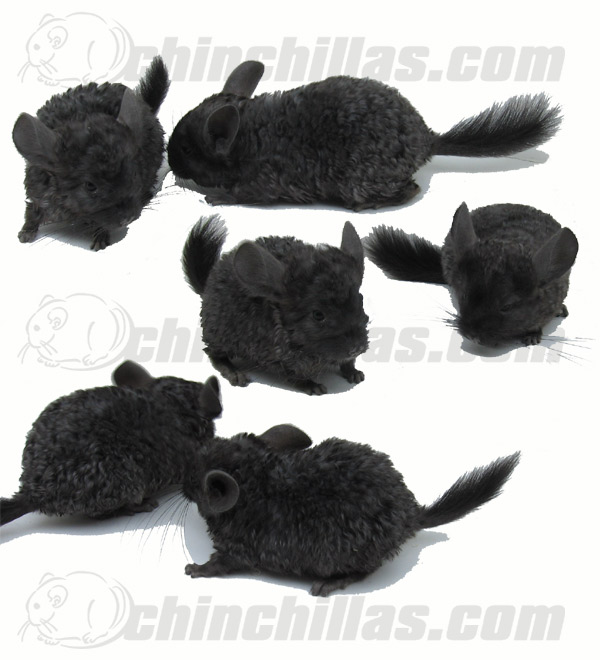 The ebony-related Curly mutation is a relatively new chinchilla mutation. In December of 2007, Chinchillas.com, Jim Ritterspach, and Tamara Tucker collectively imported a small group of Curly chinchillas into the United States from Germany. Two of the original Curlys stayed in Ohio to join the Ritterspach herd, and three went to Texas to join the Tucker herd. Both breeders initially outcrossed the Curlys to expand the relatively small gene pool, however, breeding Curly to Curly results in even curlier fur in subsequent generations. This Curly gene has also proven to be ebony linked so far. A chinchilla has to express ebony in order to express actual curls in the phenotype. The Curly fur also appears in the phenotype of ebony hybrids like tans, and ebony and white mosaics. Theoretically, a wrap-around violet Curly could exist, as could a solid sapphire Curly, or a tan and white mosaic Curly, although we have not yet proven the latter. Ms. Tucker has also begun work with an Angora/Curly hybrid, and the results should prove to be exciting among hobbyist and show breeders worldwide. Beginning in 2010, a small number of the Curly chinchillas are being offered for sale on Chinchillas.com. However, this new mutation needs a name. We are asking chinchilla breeders and enthusiasts to suggest a name for the ebony-linked Curly chinchilla. If we select your name, you will receive a Slider Necklace in the color of your choice, with a signed and numbered sterling silver Chinchilla Millennia VI miniature sculpture by New York Sculpture artist Barbara Scott-Fisher.
Thank you for participating!
3mm Slider Necklace with Chinchilla Millennia VI

The Chinchilla Millennia series was created by the highly skilled miniature sculpture artist Barbara Scott Fisher. Barbara Scott Fisher studied chinchilla conformation for several months in the process of creating this series. Her sculptures reflect the beautiful lines and aesthetic beauty of a well conformed chinchilla. Owners of the Chinchilla Millennia IV & Chinchilla Millennia VI sculptures should be well pleased with the fine details such as the unusual, anatomically correct footpads and delicate fur rolls around the ears. Chinchilla Millennia IV weighs 4.3 grams in sterling silver, and measures 13mm x 8mm x 8mm. Chinchilla Millennia VI weighs 3.3 grams in sterling silver, and measures 12mm x 7mm x 7mm. Chinchilla Millennia IV & Chinchilla Millennia VI will be offered in Sterling Silver Editions of 5,000 each. Each limited edition piece is insignia stamped, and comes with an embossed Certificate of Authenticity signed by the artist.
Copyright© 2010 Chinchillas.com All rights reserved. Designated trademarks and brands are the property of their respective owners.