Dwarf and Mini Chinchillas


The terms dwarf chinchilla and mini chinchilla are often used interchangeably, but there is a marked difference between the two.
Dwarf animals of any species are typically sterile. There are some fertile dwarfs that appear from time to time, however. One of the most prominent lines of fertile dwarf chinchillas originated at Pete and Sue Kiseskey's PSK Chinchilla of Southern California. In about 1989, a true dwarf standard male was littered by a normal violet female at PSK, and that dwarf later proved to be both fertile and to have a true recessive homozygous gene set for dwarfism. He had a notably large head, very large eyes, short legs, an extremely small round body, and a tail of only about 2 inches in length. He was also long lived and healthy. He was originally sold, at the age of six or seven, to a school teacher in Santa Clarita who had wanted him for many years.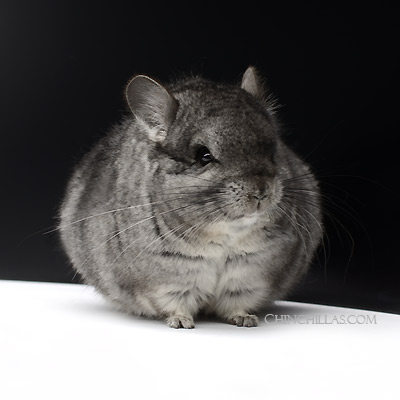 Under her ownership, he produced a single pre-term kit, possibly mummified, out of a miniature non-dwarf standard female. Unfortunately the kit did not survive, but the dwarf proved himself to be fertile. Not being interested in becoming a chinchilla breeder, the teacher finally resold the dwarf to a mutation chinchilla breeder, also in California, who had expressed an interest in working with the gene for dwarfism. At his third home, and as an aged male, the dwarf successfully produced viable offspring. This particular dwarf chinchilla mutation proved to be a true recessive gene. The first generation of offspring were all of normal size. Subsequent generations produced dwarfs. Many of those dwarfs and carriers have gone on to other breeders, and have also proven to be fertile. However, dwarf females of this line can have littering problems. It may be preferred to cross the dwarf and dwarf carrier males to large dwarf carrier females, to more safely produce dwarfs.
Mini chinchillas are just very small chinchillas. Minis do not necessarily have the same infertility issues as dwarfs. The weight of a mini chinchilla is subject to sex and color, as well as condition. A standard mini female is frequently larger than a mini male. In general, a standard female of around 1 pound 4 ounces would be about at the top end of the mini scale, and a male should probably not exceed 1 pound. Minis are safer to breed than dwarfs as far as avoiding littering and fertility problems, as long as the breeder is cautious to use males that are smaller than the females they are breeding.
Visit the Chinchillas.com Auction database to see more pictures of dwarf and mini chinchillas, or see new chinchillas for sale in the Sales Gallery.