Chinchilla Ear Tags


Ear tags are one method of identifying chinchillas. The ear tag numbering system, which originated in the rabbit industry, employs a year-letter followed by a number on one side of the tag, and sometimes a ranch code on the other.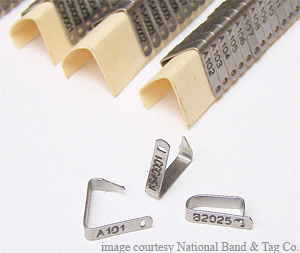 The year letters repeat approximately every 20 years, so a breeder can have multiple 'N17's,' for example, if they use the system for more than 20 years. During any given year, multiple breeders who use the standard ear tag numbering system will have an 'N17.' However, the ranch code on the tag may be different, depending on whether or not a generic tag is used. Ear tag use in chinchillas stems from the large-scale pelt producing industry, and is less common today. A small mammal or fish tag from National Band and Tag is typically used for chinchillas.
Ear tags are helpful if animals get loose, are switched during transportation, or if a new owner is trying to trace the age and origin of an animal. A downside is that anyone can have ear tags made, so the tags only offer a limited degree of authenticity. Additionally, chinchillas have very thin ears, and the tags can get caught on cage wire and tear the ear or cause the ear to become infected.